Workforce Development – Futures Program
In 2001, the Foundation developed the Futures Program to address the critical shortage of practitioners who care for the geriatric population in our nation.  To date, over 1,200 healthcare providers have completed the program.  Many of the current leaders in PALTC began their careers as a Futures participant.  
Held during AMDA-The Society for Post-Acute & Long-Term Care Medicine's annual conference each year, this intensive learning experience is designed to provide an introduction to post-acute and long-term care medicine for residents, fellows and advanced practice providers that will serve to expand and strengthen a competent and compassionate PALTC workforce.
Program Goals
Recognize the variety of ways to practice in the PALTC setting.
Understand the roles and responsibilities of PALTC providers/medical directors.
Describe components of PALTC settings including clinical capabilities, financing, regulation, commonly used terms, and acronyms.
Futures Program Application Deadlines
Information about the Futures Class of 2023 will be available in mid-July. 
Questions or concerns, email us at Futures@paltc.org
"The Futures Program shed light on an area of medicine that I did not have formal exposure to during my training: Post-Acute & Long-Term Care Medicine.  The connections and friends I made during that week formally launched my career.
I jumped right in and AMDA embraced and welcomed me to the family from the very beginning.
I couldn't be happier!"
AWARD ELIGIBILITY
PGY IV or V Geriatric Medicine/Geriatric Psych Fellows
PGY II or III Internal Medicine or Family Physician Residents
Advanced Practitioners: Advanced Nurse Practitioners, Physician Assistants
Previous participants are not eligible to apply
BENEFITS & REQUIREMENTS
All participants, upon acceptance into the Futures Program, will receive the following benefits:
Benefit

: Admission to the Foundation's Futures Program on Thursday, March 10, 2022.

Requirement: Attendance at this all-day event is required.
Benefit

: Registration to 

PALTC22 – AMDA's annual conference

from

 

March 11-13, 2022.

Requirement

: Daily attendance at the symposium is required. There may be a few required events; otherwise, the participant can choose the sessions he/she wishes to attend.

Benefit

: One-year AMDA-The Society for Post-Acute and Long-Term Care Medicine membership beginning January 2022. Enjoy the monthly 

JAMDA

 subscription, access to free webinars, and other

 benefits of membership.
Benefit

: Opportunity to network. Participants will have an opportunity to network with our membership to make informed decisions about post-acute and long-term care medicine careers.
PROGRAM AGENDA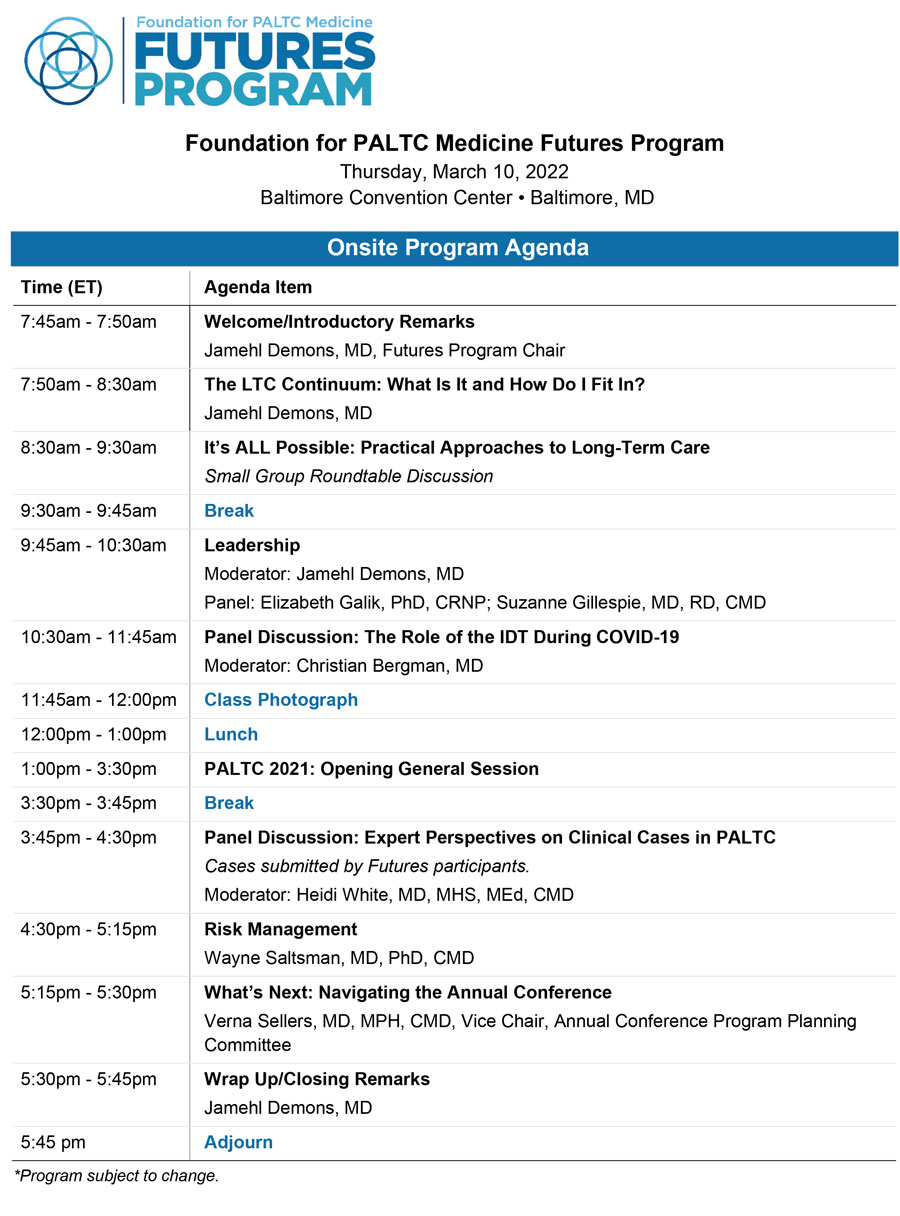 CLICK HERE to download the program agenda.
APPLICATION PROCESS
Please prepare the following items to upload with your online application: 
Letter of Interest (LOI)

 – Your LOI should be no more than 250 words and should describe your interest in long-term care practice and why you feel you will benefit from participating in this program

. 

Curriculum Vitae (CV)
A current photograph 
Read and accept the Futures Program Policies before submitting the online application. Submission of your Futures Program application indicates that you have read and accepted the Futures Program Policies.
Letter of Support (LOS) by the applicant's program director or another AMDA member must be emailed to programs@paltcfoundation.org following submission of your online application. Your application will not be considered complete until we receive the LOS. 
FUTURES PROGRAM POLICIES
Futures Program Cancellation Policy
The purpose of this policy is to provide a cancellation procedure for Futures participants, should a cancellation be necessary. This policy applies only to participants who have been accepted into the Futures Program.
Statement of Policy
If a Futures participant would have to decline or withdraw from the Futures Program, they must contact the Foundation immediately by phone and in writing. The institution's program director of the participant will also be notified of the participant's cancellation.
Futures Program Travel Policy
The purpose of this policy is to ensure consistent procedures among Futures participants traveling on behalf of the Foundation. This policy applies only to participants whose expenses are being paid by the Foundation; it does not apply to those whose expenses are being paid by another organization or by the traveler him or herself.
Statement of Travel Policy
Travel arrangements, including changes and cancellations of travel arrangements, can be made directly by the Futures participant. Flight changes and cancellation fees will be the responsibility of the Futures participant.
The lowest available airfare shall be sought when booking. All travelers are expected to use economy class.
If the conference location is within driving distance of the participant, the participant will be reimbursed for mileage (federal rate) and parking fees.
AMDA – The Society for Post-Acute and Long-Term Care Medicine Annual Conference registration will be paid directly by the Foundation.
The Foundation staff will make the hotel accommodations. If a participant receives a full award and requires private accommodations, the Foundation will provide two nights hotel accommodations, and the participant will be responsible for additional nights.
Futures participants will be responsible for the costs of ground transportation to/from the conference and any food costs (breakfast and lunch will be provided at the Futures Program).
ONLINE APPLICATION
The CLICK HERE will take you to the AMDA website where you will need to sign in using a current account or create a new account to complete the Futures application. 
"My experience as a Futures participant encouraged me to redirect my practice in geriatrics and focus my effort towards achieving better:  better outcomes for my patients, better practice
surrounding inclusive healthcare in my community, and maintaining better self-care in order to continue to advocacy and awareness regarding aging."
Watch videos from 2022 Futures participants discussing why they found the program so valuable
and why they recommend it.
"I found my unique place in geriatric care through AMDA's Futures Program supported by the Foundation for PALTC Medicine, which introduced me to the rewarding work of post-acute and long-term care medicine and provided me with colleagues and comradery that are invaluable to me on both a professional and personal level."
– 2001 Futures Program graduate, former AMDA President,
Cari Levy, MD. PhD.
WAYS YOU CAN SUPPORT
The Futures Program
When you donate to the Foundation, a 501(c) (3) organization, your tax-deductible gift helps us to further our mission to support the quality of life for persons in the PALTC spectrum through the development of clinical demonstrating the value of a trained and engaged workforce.
Donate online or become a sustaining
monthly supporting donor.
Volunteer to serve on a
Foundation committee.
Donate stock or appreciated securities including real estate or other valuables.
Make the Foundation a beneficiary
of a life insurance policy.